How to optimize production planning in a small manufacturing company?
Optimization of production in a small company
Production planning represents the core of the manufacturing process. The purpose of production planning is to organize the resources needed in managing production costs, time and labor in manufacturing operations. Nowadays more and more products have similar technological characteristics, so competitiveness on the market depends not on how unique they are but rather on effectively their production is organized. Companies which produce sophisticated goods, according to clients guidelines, for individual orders or as series production often face problems and have to compromise between customer needs, complexity of production process and effectiveness. That's why optimization of the production planning is very important and many companies search for the best strategy to implement.
Do you want to optimize production successfully? Start a test!
Try Prodio without any commitments - you have 14 days to check all of its functions in practice. After your trial period ends you can simply leave your account or continue work as our Client.
Try for free
Call us: +48 32 746 61 62
What will you find in this article:
Other articles you might find interesting:
Optimization of production planning processes – where to start?
There are various factors to be considered in optimizing manufacturing operations. By considering and implementing this, various things related to production costs, time, and labor in business operations will be more solid and effective. In fact, streamlining complex manufacturing operations is necessary to map existing production processes  and it is often caused by some disruptions at the production hall. These include long production or delivery times, superfluous inventory, lack of flexibility when committing an order.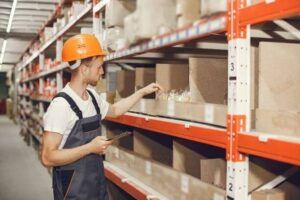 When can you benefit from optimization of production planning processes? 
Each change regarding production planning in a small manufacturing company should be preceded by a thorough analyses of situation, especially when the logistic concept requires adjustments because of:  
the company growth and changes made in the array of products on offer,  

the changes in the way products are made, followed by the changes in raw materials flow, 

changes of place (ex. a new location, an extended production hall).
Other important factors which contribute towards optimization of production planning processes include:  
global changes (economic, political, legal) ex. current situation with covid 19 pandemic,
adjust the production process to existing norms and standardize it (ex. audits, requirements of ISO norms),

the willingness to increase competitive value of the company on the market (or new rivals in the industry),

cost cutting, when the income is not proportional to spending,

the willingness to utilize better different resources (human, raw materials, company premises, etc.),

reduce the number of complaints and the amount of faulty goods (minimize errors), 

better time management,

better communication across the teams, improved morale, faster transition of new employees, 

creation of company know-how and database of products.
No matter what is your motivation, the common feature is the need to optimize production processes to make it effective which in turn will help to:
reduce cost,

speed up production process,

increase customers satisfaction,

timely delivery of orders,

improved productivity,

integration of employees as they can feel the part of the company.
Production planning processes – different methods of optimization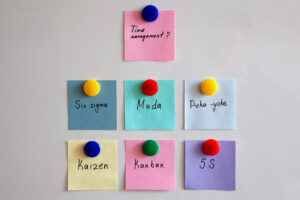 The pace of change in manufacturing has never been so high. To meet new demands and remain competitive, you need faster responses, state-of-the-art technology, and connected processes from production planning and control to material requirements planning and logistics. At the same time, you need to ensure full traceability and documentation to comply with strict regulations. Sometimes it is not possible to introduce radical changes, because it is financially risky or could create chaos at the production hall. There is an alternative solution in the form of the Kaizen method. The Japanese word kaizen means "change for better" and it refers to any improvement, one-time or continuous, large or small to finally achieve standardized programmes and processes within the company as well as: 
eliminate waste and redundancies, improve quality

;

have clear criteria of assessment and appraisal and get employees involved in company;

reduce costs;

improved ergonomics of workstations.
Another solution presents a Just-in-Time method, which allows us to synchronize different activities in the process. It is used as a strategy of managing inventory and/or production that links the ordering of raw materials to production scheduling. Thanks to that we save the space and the cost of storage and achieve:
Better information flow, supply tracking, goods distribution;

Employees skills are better utilized (multitasking, multi skilling);

Less waste and lower inventory costs, which result in increased profits for the organization;

Utilizing the raw materials in a timely way so as to fill orders on a timely basis (the risk of goods being damaged or out of date is minimized);

A company efficiently using raw materials, leaving little to no raw materials left over after production;

Shorten time of order delivery and completion.
Both methods described above are often supplemented by the Kaikaku method (it is a concept of a radical change of a production system, during a limited time) as they support lean management, which is founded on the concept of continuous and incremental improvements on product and process while eliminating redundant activities.
Other well recognized methods include One Piece Flow and developed in the 1950s in Japan Kanban method. The Kanban system takes its name from the cards that track production within a factory. The card is, in effect, a message that signals a depletion of product, parts, or inventory. When received, the kanban triggers replenishment of that product, part, or inventory. Kanban originated from the simplest visual stock replenishment signaling system, an empty box. A goal of the system is to limit the buildup of excess inventory at any point in production. Limits on the number of items waiting at supply points are established and then reduced as inefficiencies are identified and removed. Whenever a limit is exceeded, this points to an inefficiency that should be addressed. It can be described in 6 rules:
no shortages,

no delays,

no extra supplies,

no queues,

no stagnation,

no excess technological nor control operations.
The forms are the core of the Kanban system, because thanks to them it is possible to inform other workers about the level of inventory and the amount of raw materials. Consumption, therefore, drives demand for more production, and the kanban card signals demand for more products — so it helps to create a demand-driven system and prevent overstocking. Originally the system was based on paper cards, which increased the risk of mistake, but nowadays many manufacturers have implemented electronic kanban (sometimes referred to as e-kanban systems). These help to eliminate common problems such as manual entry errors and lost cards.
The One Piece Flow method ("single piece flow") states that everything is constantly progressing and only one item is in any given queue at a time. Multiple items can be in the process as a whole, but nothing has to queue up and take up space from the moment it starts until the moment it's complete. It helps to reduce waste (you're not spending money holding items for future delivery) but requires a huge amount of coordination and consistency to pull off. Thanks to One Piece Flow you can:
optimize any used space,

shorten and speed up production processes,

balance workstations,

eliminate unnecessary tasks and operations.
More information about this method you can find here.
Another technique which also supports the ideology of lean management is the 5S method, which consists of 5 elements or steps that indicate the order of its implementation. Each term starts with an "S": Sort, Set in Order, Shine, Standardize, and Sustain. These steps involve going through everything in a space, deciding what's necessary and what isn't, putting things in order, cleaning, and setting up procedures for performing these tasks on a regular basis. 5S is a continuous method of organisation and in the long run it decreases the number of accidents at work, improves the quality of products and services and the number of mistakes constantly decreases. It means less complaints and more customer satisfaction, as well as potential subcontractors, suppliers, auditors, etc. Other benefits include:
Clean, organized and safe work environment;

Reduced number of accidents at work;

Improved quality of goods and services;

Increase customer satisfaction; positive impression and company's image

Improved productivity and efficiency by eliminating unnecessary stages of production and better access to information, tools, etc.;

Less waste and lower costs of production;

Optimized space;

Increased responsibility of employees, raising awareness, involving staff in the company. 
Implementation of 5S is beneficial for the natural environment, because it reduces the amount of raw materials used, the number of faulty goods, leftovers, etc. It also helps to identify the source of potential pollution. 
How to implement strategies of optimization of production planning processes?
Regardless of the implementation strategy you decide to use it is a good idea to order an audit especially in a larger company. When you have a smaller manufacturing business still it won't hurt to take care of better organization at the shop floor ex. replace paper orders with the printed ones. The key is to visualise all stages of production: from accepting an order to delivery of ready goods to your client.
Manufacturing software as a method of optimization of production planning processes.
The aforementioned visualisation is possible thanks to use of smart manufacturing software such as ex. Prodio. It doesn't have to be a complicated and difficult process: just think about your production hall as it really is and try to recreate all procedures in your manufacturing software. This simple step enables you to computerize all data and has great results for the quality score: from day one it is possible to see an amazing improvement in organization of production planning processes. Practically speaking it means:
Paperless and organized work environment (there is no need to dig through millions of paper notes to find the right order, check its parameters or see updated changes);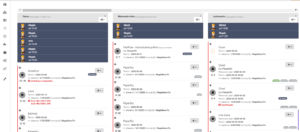 Analysed the work of machines (it allows you to analyse machine work and set norms to make sure their potential is fully utilized; It also helps to calculate changeover times, setting different parameters before starting work on a new order  and maintenance  or service time);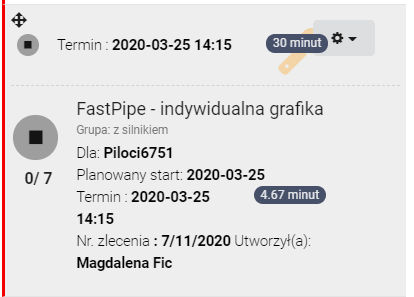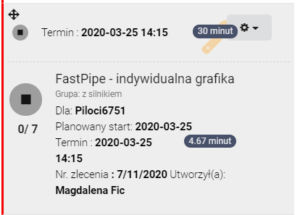 Analysis of working time (how many hours each employee spent working on machines / operations, compared to the number of hours they spent at the production hall);

Setting production norms;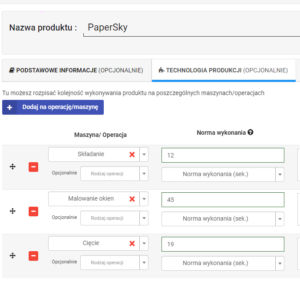 Access to work history (to spot mistakes and anomalies, to see who was exactly responsible for each task to avoid complaints);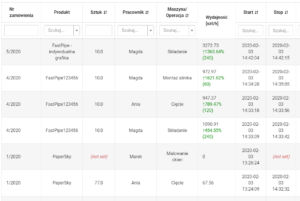 Better communication between the shifts (possibility of leaving comments and passing on important information), the office and the shop floor (to check the progress of a particular order and promptly answer customer's enquiry by providing  relevant information) as well as the managers/ the owner and the shop floor (they can log into the system from any place in the world and check online the progress at the production hall);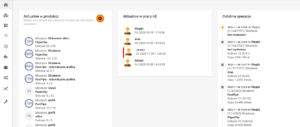 The database of products with their technology of production is in the computer not in "the heads" of key employees (constant access to information regardless of the fact who is present at work, which enables new workers to start their job immediately and minimize mistakes).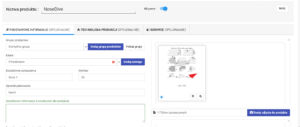 Start now!
Try Prodio without any commitments - you have 14 days to check all of its functions in practice. After your trial period ends you can simply leave your account or continue work as our Client. Would you prefer to talk? Don't hesitate and call us from 9:00 am to 5 pm !
Try for free
Call us: +48 32 746 61 62