Managing hundreds of customized production orders in printing house / advertising agency.
Considering the variety of orders you would have to hire an extra person, as in typical ERP you have to make time to create a new product with each new project your Client has. It's time consuming and not very effective. 
Regardless of what you produce: calendars, promotional clothing, large-format prints, you need a software where you can quickly collect information from Clients, comfortably check the progress and run smoothly the whole production process. 
Competitors are right behind you, so time is precious. You can't afford losing clients and spending both time and money on ineffective solutions.This is another reason to check possibilities offered by affordable and intuitive Prodio software.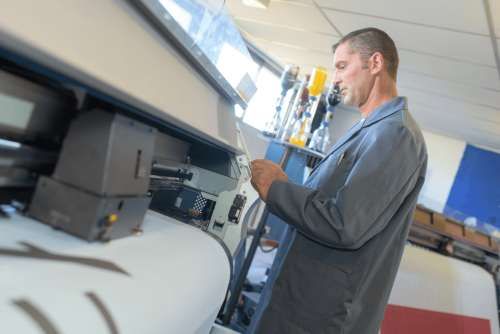 In your branch trusted us with their know-how:
 bookbinder's,

 clothes manufacturers / advertising accessories,

 specializing in large-format printing houses,

 advertising agencies.
Simple production scheduling, calculations and accounting software for advertising business / printing houses and bookbinder's.
Thanks to product templates you save time, standardize work procedures and minimize mistakes.
The rule is simple – instead of creating each time a product for the same Client, use earlier defined template adding only data specific for that order.  
This is possible thanks to any number of extra boxes, which you can add to your orders and products, and a possibility of attaching graphic files.
Every day employees can easily navigate among dozens of completed projects thanks to production orders with bar codes.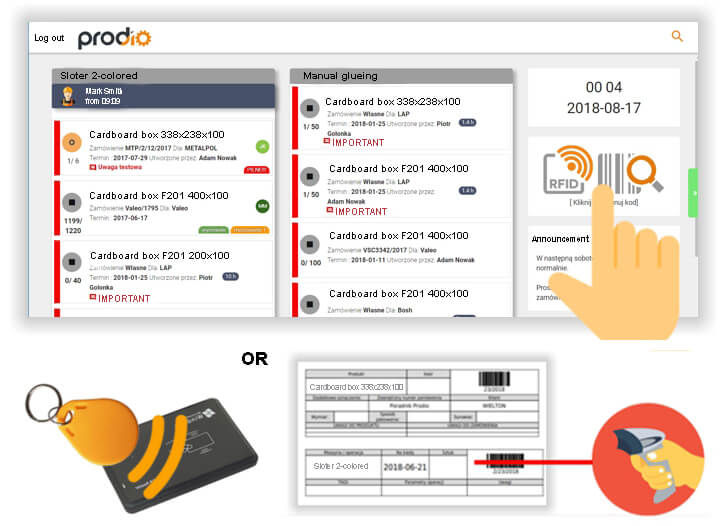 Thanks to the order print outs which "travel" as the product is moved from place to place, all employees know what's what – and registration of progress can be done using bar code readers.
This solution ensures registration process is really fast and takes no longer then a few seconds, and you have active and updated progress view.
Check how to print an order.
You can import lists of orders from the external program
You can move the list of things to do (product, date, Client, due date) from your online platform directly to Prodio, thanks to importing from .csv files. It is definately a time saving solution. 
Tips and tricks, how to adjust your new production management software
Prepare product templates; all that is left to do later – fill out customi

zed for your Client boxes.
For example: instead of creating a product and technology for each ordered business card 85,60 × 53,98, prepare its template, with whole technological process, operations, machines, and step-by-step procedures as well as expected efficiency.
When the Client orders an additional batch, you choose this business card, and in new boxes add a graphic, special requests, type of finish or method of delivery.
Use accelerated production registration with bar codes on many devices.
When you move very fast from order to order it is very important to make the whole process as easy as possible.
Print manuals with bar codes, which you put at the production hall – see how?
and use bar codes for registration – link.
Attach photographs, visualisations and projects within Prodio system
If you want your employees to find their way around hundreds of orders easier and faster, add products visualisations in the system.
Instead of uploading big files to a cloud, attach them as links from the local network – link.
Short-list with other suggested settings and useful tricks in production management:

What is the best to write down and set as "product" ustawić in Prodio:
The product template, which can be later personalised. It is necessary to add technology to a product – the work will automatically be divided into the right machine. 

The templates could be ex—Leaflet A5 135g, Sweatshirt ABC XL – silk-screen printing or car wrapping.

Remember, you can duplicate it to use later while preparing another order.

Production plan – what can you set as machines/operations?
All machines you use in your production (by name), products plus made by hand operations such as glueing, packaging, etc.

Production plan – tips regarding displaying  and planning
Set up locks, so your employee won't be able to work two orders 

simultaneously

– see how?

Use horizontal machines layout.

Additional boxes worth adding for your branch:
Wide variety depending on what you do 🙂

For orders:




Type of finish (or other customized for your Client parameters)




Path to files in LAN network




Form of delivery